It seems I must not have quite figured out the intended use of the gorgeous CTMH Workshops On The Go kits - they are designed to make it super easy to create some fantastic layouts...however, when I receive a new one my mind starts racing and I tend to mix it up and create lots of other things instead! I guess this is a good thing, and really shows the versatility of the kits - yes, you can create the intended layouts and they will look fabulous...or you can really do whatever you want with them and you know it will all coordinate without having to think any further about it.
Anyway, I used the Balloon Ride WOTG kit that is available
here
and also the Give A Lift acrylic stamp set which may just be my new favourite set (well, for this week, anyway!). You can take a look at the Give A Lift set below and it is available for purchase (to anywhere in Australia)
here
.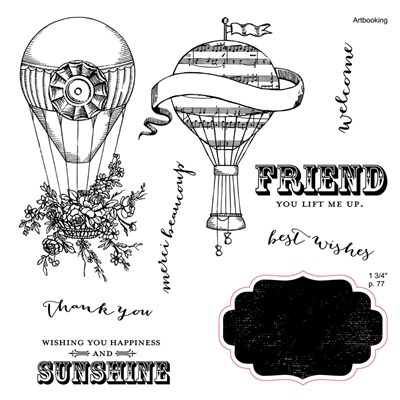 Isn't it gorgeous? I love the two balloons so much, and these are the ones I have used in my cards, along with the papers from the kit.
Here is my first card, just in time for Mother's Day. I simply stamped the image using brown
Staz On
onto
Colonial White
card and coloured using
markers
directly onto it. No extra special technique here - just coloured 'er in! A handy tip for making a card with a sentiment like this one (which is from the hostess only set) is that you can bend it into a curve shape to fit the balloon. Looks like it was meant to be! Another cost saving trick on this card is the top strip under the balloon image is actually the cut off strip from the bottom of the 12x12 patterned paper. Never throw anything that may have a use away! It adds the perfect bit of extra colour to the layers.
Of course I had to make two Mother's Day cards, and the second one is similar but with a slightly different design.
I simply used three strips of the patterned paper for the background on this one. It was perfect to showcase that gorgeous balloon patterned paper without it being too overwhelming. This one I coloured using a
blending pen
with the ink from the
ink pads
for a more subtle colouring. I did add a couple of hearts from my stash to offset the balloon angle. (I must admit, this one is not my favourite due to the angle on this balloon...in fact it is stressing me out a little and I would much prefer to straighten it - but I figured it looks like the balloon is soaring off into the sky this way...)
Lastly I made a Sympathy Card, not always the easiest of cards to make. I used the
Banner Wishes
set for the sentiment on this one, and this time coloured onto water colour paper with the blender pen. Not sure that it was worth the extra effort as it doesn't look much different to simply using the markers! I used a sentiment stamp from a different company (simply because I didn't have an appropriate CTMH one yet) and found it quite interesting the quality of the stamp... I was quite disappointed with it and the ink seemed to "bleed" a bit, hopefully it is not too bad.
With all three cards I inked the edges using a brown ink, these kind of images and cards needed it, I think. I took my inspiration from the cards in the
Idea Book
on page 39.
If you have any questions or would like further information on these or any other CTMH items, just send me a message via email or my facebook page https://www.facebook.com/leahcameronctmh?ref=hl