I have been doing the
December Daily project by Ali Edwards
for quite a few years now. And over that time I have learnt a few tips that work for me. I have also learnt what doesn't work so well for me, and I am sure what may lead to quite a few UFA's (unfinished albums) lying around at the back of cupboards.
The very first year I did my December Daily was in 2008, I did just that. A daily record of December. I carefully prepped all the pages, complete with dates ready for December. It all looked very pretty at the start. It was so long ago that I can't even find the photos of it now!
Anyway, what I learnt from that is that our lives are a bit too normal (boring?) for a lot of the days in December to warrant a separate page for each day. And some days were too exciting for just one page. So prepping everything for one page per day in advance really didn't work for me.
In 2009 I was a bit more flexible, and just did the more important December moments. I actually didn't complete the album until well after Christmas, and while the job got done, it wasn't quite the same as working on the stories and memories as they happened.
I skipped 2010 altogether, although I am going to go back and complete it digitally at some stage.
In 2011 I did a hybrid version which I loved while I was doing it, and still love today.
You can see the finished version
here
. I printed out the photo and text on my home printer, then just added some embellishments afterwards. I used a similar template throughout which made it all quick and easy.
In 2012 I chose not to do a separate December Daily album but put some extra effort into my Project Life pages for that time. This is quite a good idea, especially if you are particularly short of time, however, I really like to pull all my December albums out at Christmas time and be able to look through them all, and having it in with the rest of the year's Project Life makes this too difficult.
2013 I went completely digital and had a photo book printed. This was really quick and easy, and is a great idea if you want a quick result. I did miss the fun of the products, though, The searching, the buying, the touching, the sticking. You can see the start of my book for 2013
here
.
A great idea would be to get all your pages ready digitally in advance, then wait for a super special on printing 12x12 like what is available right now through
CTMH's Studio J
.
So after all that - here are the main points I have learnt that work for me with the December Daily project:
- Do some prep in advance, but don't be too pedantic with it.
- Nobody is going to care in years to come if you have some photos out of order.
- Take lots of photos. Take the same pic in both portrait and landscape in case one size suits your pages better.
- Don't try to do too much during December. You know, you might just be busy.
- Don't stress if you are not keeping up with the actual getting the album done during December if you can't. Take the photos, jot down some notes and you can finish it in January.
- They are YOUR memories. Don't judge yourself on what everyone else is doing. Nobody can document YOUR memories like YOU can.
- Just get in there and do it! I (and my whole family) love looking back through the December Daily albums and remembering the different things we have done. And it is fun looking at the same activities being done over the years. Building your own traditions.
This year I am doing something a little different again. CTMH have got a simply gorgeous
My Crush book
called Holiday Happenings (similar to a Smash book) that I will be using. It is a 7 1/2"x 8 1/2" Kraft hardcover album complete with gold foil accents (the cover is the gorgeous triangular Christmas tree) with 30 pages in a mix of styles: printed vellum, printed cardstock-weight and page protectors in various styles.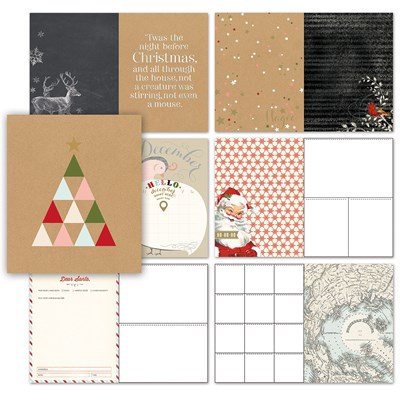 I have made a start on my first few foundation pages, and the hardest thing is actually covering up these gorgeous pages! I am also using the
Holiday Happenings Assortment
to decorate my pages, and the cute
Budge Buttons
as well. Just purchasing these items through my CTMH website is only $40 plus freight which is great value for all you will need to put together a fantastic, basic December Album. I am adding some bits and pieces to mine, in particular the
3"x4" Flip Flaps
that I will be utilising to give me some more space for photos and journalling on my pages.
Stay tuned on the blog in the days to come for my first few pages, and also check out the fabulous
Hall Of Indulgence blog
to get even more inspiration, and keep an eye on how Mandy is going using the same products.